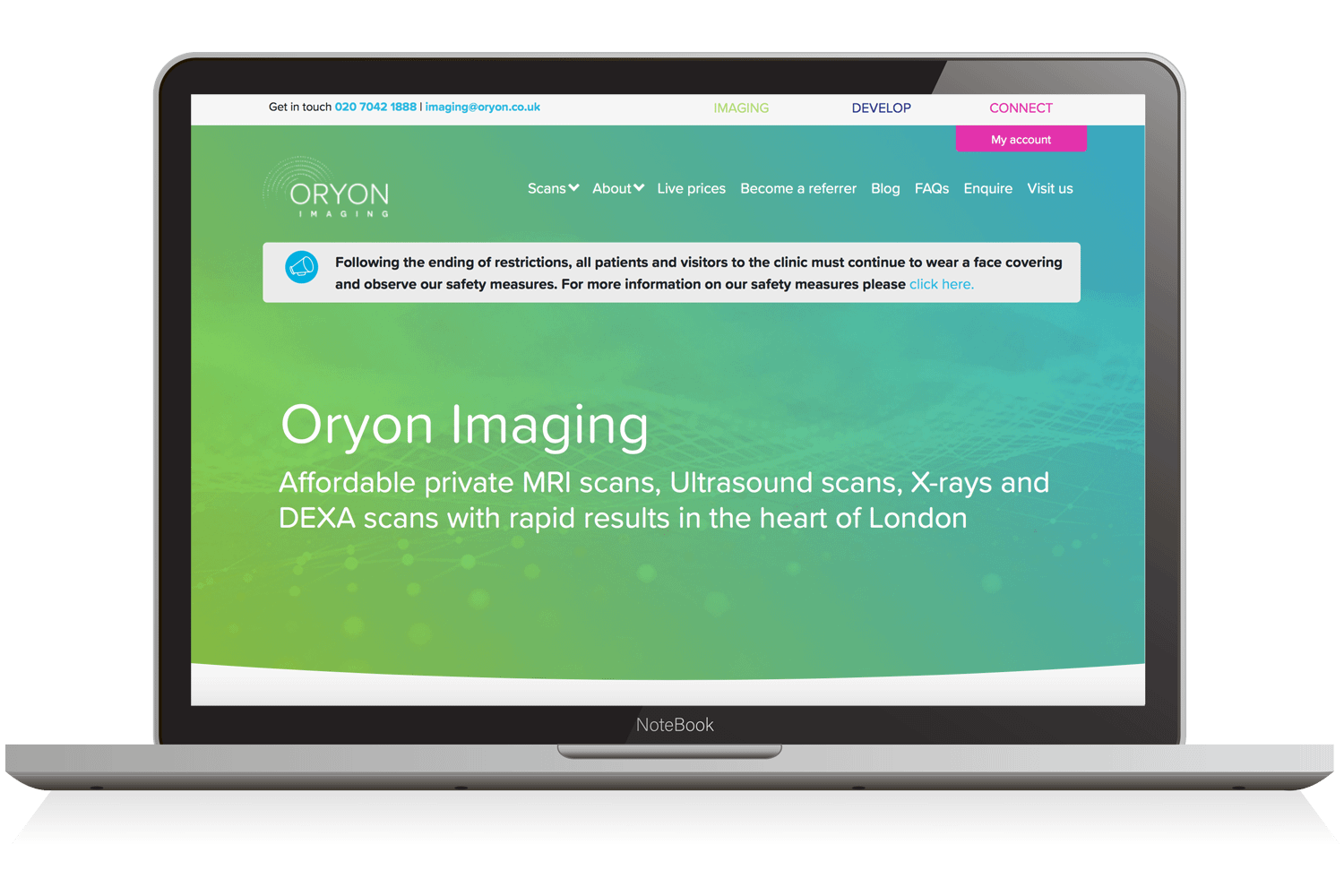 Oryon Imaging is a diagnostic imaging centre, located in the prestigious Harley Street medical district in London.  Their clinic provides affordable private scans that cover MRI, X-Ray, Ultrasound and DEXA. The expert team provide a wide range of imaging services for insured and self-pay patients.
Oryon Imaging wanted to improve their number of leads/bookings coming from paid search while also wanting us to train a member of their marketing team to enhance their knowledge of the platform and assist with campaign management.
To build a robust and streamlined PPC campaign for Oryon it was vital for us to understand who else was in the market so our first step was to undertake keyword research and a competitor analysis. As the team already had a Google Ads account and historic campaign our team took time to review existing data to uncover key areas of opportunity that had not been capitalised on in the past.
We re-built the existing campaigns using our 'Single Keyword Ad-Group' approach to improve advert relevance and expected click through rate. This approach allowed us to focus budget on top performing keywords and have greater visibility over campaign performance.
Over the coming months we consistently adjusted bids based on location, search intent and other relevant demographic factors to improve the sites conversion rate. We worked with the team to improve tracking and had an open dialogue so we could stay abreast of strategy.
Leads increased from the website from PPC by 90.44% in the first 6 months of campaign management.
Cost per acquisition in the first 6 months of campaign management improved by 24.60%
Click through rate reached its highest ever level with an increase of 27.05%
After 9 months of training the Oryon team took over the account management as planned, with regular training sessions booked in with the Signify team.
SUPERCHARGE YOUR HEALTHCARE PPC CAMPAIGN
NATASHA - MARKETING DIRECTOR
WE'VE SEEN AMAZING RESULTS IN A SHORT SPACE OF TIME
"We brought Signify on board to help us drive up our appointment bookings through PPC. Working with the Signify team has been exceptionally easy and we've seen amazing results in the short space of time that we've worked with them. Our monthly review meetings have been really insightful and they've kept us updated of key changes that they make to the campaign."